Scarlet Jinn and the Big Love Band has a show at Happy Hours this Friday, Oct 18th.  9PM-1AM.
Here's the poster: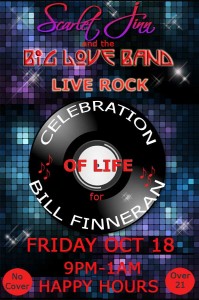 Oh, and if you need directions, click the little green circle in the "shows" page.
It's a party!As you probably are aware, Bill Finneran, founder of Eugene Record Convention, and father to our own bassist Ian, left this dimension on Oct 1st.  Bill was a huge music lover – certainly the most knowledgable person I knew when it came to rock music.
Bill loved his classic rock, and he loved to party — so we'll be celebrating his life by playing a wide variety of danceable rock tunes spanning decades.   Come on out and partywith us!